Premium Sneaker Cleaner
$29.99
8 OZ Sneaker Cleaner Designed to Clean Safely and Effectively on all Material – Leather, Vinyl, Neoprene, Canvas, Suede, Mesh, Microsuede, and Plastic
Description
Description
Get the ultimate professional clean with the Pasquale Fabrizio Sneaker Cleaner, specifically made with a water-based formula and no harsh chemicals making it safe and easy to use on leather, fabric, vinyl and nylon mesh and on all colors.
How to Use
How to Use
Your beloved sneakers can take a lot of punishment. Bring them back to life with our Premium Sneaker Cleaner.
Step 1
Remove the laces and place them in a bowl containing the Premium Sneaker Cleaner and rub the dirt off the laces and let air dry.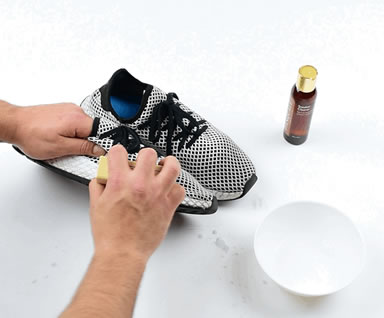 Step 2
Apply the Premium Sneaker Cleaner solution directly onto your sneakers.
Step 3
Remove the dirt build up by wiping the sneakers with a cloth.
It's important to rejuvenate and rehydrate your leather products after you clean them. Condition your sneakers with our Shoe and Bag Conditioner by dabbing a small amount (the size of a dime) of conditioner on a soft cloth or in the palm of your hand. Rub the sneakers gently with the cloth or your hand. Wait a minute to allow the conditioner to penetrate the leather. Rub your sneakers gently with the microfiber cloth or your hand.