Your beloved sneakers can take a lot of punishment. Bring them back to life with our Premium Sneaker Cleaner.
Step 1
Remove the laces and place them in a bowl containing the Premium Sneaker Cleaner and rub the dirt off the laces and let air dry.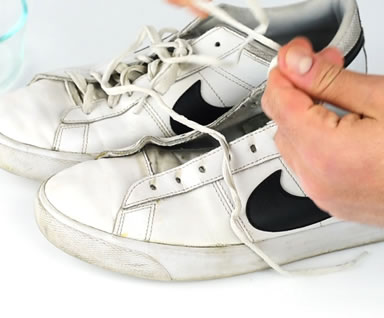 Step 2
Apply the Premium Sneaker Cleaner solution directly onto your sneakers.
Step 3
Remove the dirt build up by wiping the sneakers with a cloth.
It's important to rejuvenate and rehydrate your leather products after you clean them. Condition your sneakers with our Shoe and Bag Conditioner by dabbing a small amount (the size of a dime) of conditioner on a soft cloth or in the palm of your hand. Rub the sneakers gently with the cloth or your hand. Wait a minute to allow the conditioner to penetrate the leather. Rub your sneakers gently with the microfiber cloth or your hand.